For me Music is a relationship with something that lives and breathes. It is not something I can quantify, but nonetheless, it has presence, energy, and a spirit. When I am in harmony with Music, regardless of whether I am performing folk, jazz, rock, country, blues, or bluegrass, I (and usually the listeners too) feel very, very good.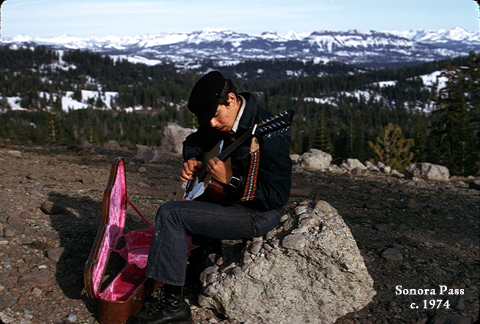 As a musician, I consider myself firstly a Vocalist. It is my first instrument, and the one I have the most facility with. Thanks to so many years (beginning about the age of seven) of singing in organized choirs and ensembles (Madrigal, Vocal Jazz, Folk, Rock), I have a skill for easily finding harmony lines on the fly. I think this is grounded in my love of, and experience with, the interweaving of independent melodic lines of Madrigal music. Perhaps more importantly, it taught me how to blend in a group, and how to support and enhance the performance of a lead singer. And yes, I am quite comfortable singing lead too.
Secondly, I am a guitarist. I came to the guitar rather late in life, at the ripe old age of seventeen. 12-String acoustic was my first love of guitar and is what you will most often hear me accompanying myself on, or playing in a group. I employ a hybrid finger-style – holding a flat-pick between thumb and first finger, and wearing steel finger picks on my second and third fingers. This affords me a more nuanced accompaniment and musical expressiveness than that which I could produce with flat-pick alone.
More recently, at the musically ancient age of fifty-six, I took up the double bass (upright bass). Quite frankly, two years later, at the time of this writing (2014), I still consider myself a wannabe bass player, but I am having quite a lot of fun with it and it is exciting to continue to grow as a musician. It is a real treat when I get to groove on the bass with my trio, Untethered. (If you only knew the power of the lower register. Join me, Luke, and together we will rule the ensemble! ~Darth Vader)